Dispatches
Wendell Ford, 'Fighter for People,' loses final fight: the one for his life
Former Kentucky governor and state's second longest-serving U.S. senator dead at 90
Former Kentucky governor and Sen. Wendell Hampton Ford, oft billed as a "Fighter for People" in his 24-year career as the state's longest-serving United States senator at the time — a milestone later eclipsed by current Senate Majority Leader Mitch McConnell — has lost his final fight: the one for his life.
Ford, 90, died at home this morning in Owensboro following a bout with lung cancer. Ford's cancer was announced last July by his former Senate press secretary, who also revealed the cancer had started to spread by the time it was discovered. The former Kentucky governor and United States senator had been undergoing chemotherapy ever since.
"I have been blessed with good health for most of my life," Ford said in the 2014 statement announcing his lung cancer. "While these recent developments are unexpected, I have a very positive outlook and complete faith in my doctors. I am going to listen to them, do exactly as they say and leave the rest with the good Lord."
Slightly more than six months after that announcement, he died.
End of a political era
He always took care of Kentucky, but never lost sight of the fact that he represented all of America. — Vice President Joe Biden, 24-year Senate colleague
Ford's declining health kept the dean of Kentucky Democrats off the campaign trail in 2014 as state Secretary of State Allison Lundergan Grimes, daughter of former Kentucky Democratic Party Chairman Jerry Lundergan, mounted a failed attempt to unseat McConnell in one of the country's most-watched Senate races.
Had it not been for his cancer, Ford would have likely campaigned tirelessly for Grimes as he had long done for other Democrats involved in key races throughout the state, such as state Attorney General Jack Conway's failed bid to win the U.S. Senate seat being vacated by retiring Republican Sen. Jim Bunning in 2010.
Despite the efforts of Ford and other Democratic luminaries, including former President Bill Clinton, Conway lost the 2010 midterm election in a landslide — or "Randslide," as some in the media dubbed it — to a political newcomer, Tea Party-backed Bowling Green eye surgeon Rand Paul.
A dyed-in-the-wool Democrat in a state in which all but three of its Congressional representatives in the 16 years since his retirement have been Republicans, the moderate Ford occupied a sort of elder statesman role in Kentucky politics — a role to which McConnell has long been thought to aspire but is unlikely to ascend, given his decidedly non-moderate tilt.
Colleagues on both sides of the political aisle liked and respected the folksy Ford. McConnell? Not so much.
It remains to be seen, however, whether Kentucky's senior and longest-serving senator might be able to reinvent his image with an eye toward shaping his legacy now that he's risen to Senate majority leader, a position of power not held by a Kentuckian since Democrat Alben Barkley was demoted to minority leader in 1947 before going on to become President Harry Truman's vice president two years later.
Ford: "I represent Kentucky"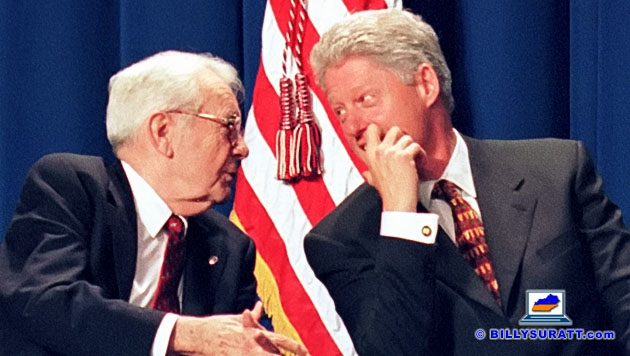 "Really, when you get right down to it, government is to serve people, and when you are not serving people, then you don't have good government," Ford once told The Courier-Journal.
An "unapologetic smoker," as The Associated Press put it after his death, the wire service said Ford would sometimes ask photographers not to take pictures until he could get a cigarette in his hand — exactly the opposite behavior one would expect from today's often over-coiffed and under-resolute Beltway denizens, the kind concerned more with message than substance.
"Kentucky is beautiful women, fast horses, bourbon whiskey, cigarettes and coal," Ford once said. "I represent Kentucky, and that's what I represent."
"When I'd visit him in his Washington office he always had a container of Kentucky-made cigarettes on his desk for his guests," former Kentucky journalist Rich Gimmel recalled on Facebook after Ford's death.
Gimmel was news director at Lexington's WTVQ-TV channel 36 from 1974 to 1978, then moved back to his native Louisville to serve as assistant news director and managing editor at WAVE 3 for the next seven years before leaving the news business to work in his family's manufacturing business, which he now heads.
Despite Ford's Washington stardom, where he rose to become Senate majority whip in 1991 before being demoted to minority whip in 1995 as Republicans took control of both the House and Senate — neighboring state Tennessee's entire congressional delegation flipped from blue to red in a single election — Ford later made it clear he enjoyed his three years as Kentucky's governor more than his 24 years in the Senate.
Legacy as Kentucky governor
"When you're governor, you can get things done," Ford explained to The New York Times in a 2012 interview. In the Senate, he told The Times, hearings, reports, parliamentary delays and "simple obstruction" often prevented things from happening.
As governor, however, he was able to streamline the organization of state government from nearly 70 agencies to just nine departments. (Kentucky's state government isn't quite so streamlined anymore.)
Gov. Ford also instituted a 4-cents-per-ton severance tax on coal in 1972, which was expanded by Gov. Julian Carroll in 1978 to tax both the severance (removal from the ground) and processing of coal in Kentucky.
Kentucky's coal tax rate currently sits at 4.5 percent of gross value with a minimum tax of 50 cents per ton, adding up to approximately $104 million and comprising 2.2 percent of the state's more than $4.7 billion in total General Fund receipts for fiscal year 2014, according to the state budget office.
"You see his fingerprints all across this state, from the time he served as governor to the time he rose to power in the United States Senate," state House Speaker Greg Stumbo (D-Prestonsburg) told Louisville NPR affiliate WFPL after Ford's passing.
"In today's world of media campaigns and Teflon candidates, Wendell Ford didn't like that," Stumbo told WFPL. "He wasn't that way."
In other words, what you saw with Wendell Ford was pretty much what you got.
The former governor and U.S. senator will lie in state in the Kentucky Capitol rotunda from 11 a.m. to 6 p.m. EST on Sunday, Jan. 25, 2015 with a public memorial service scheduled to begin at 3 p.m. Ford's funeral will be held at 11 a.m. CST on Tuesday, Jan. 27 at First Baptist Church in Owensboro.
Wendell Ford will be the 21st person to lie in state in the Kentucky Capitol and the first since 2012. Daniel Boone was the first recipient of that honor in 1845.